Brought to you by Sarah Rappaport, Instructor at Create & Learn
Has your child been talking about wanting to build something fun and cool with code but hasn't had time during the busy school year? Are you looking for some ways to keep your child engaged and motivated to learn during the holidays? Here are some fun, holiday-themed ways to get your child excited about computer science over winter break.
Create Your Own Holiday Animation
Draw out your child's artistic side by encouraging them to create their own holiday animation using Scratch, a FREE platform developed by MIT to introduce kids to coding. Then, your child can share in our upcoming FREE Happy Holidays Coding Fair.
I happen to teach the Scratch Ninja course at Create and Learn and I encourage my students to choose or create their own holiday backgrounds and sprites, then use Scratch's code blocks to move the character around - think sledding down a hill, dancing Santa, or a snowflake falling. Or, like this kid-created project, have a uniquely designed character go on a holiday trip around the world!
Your Child Can Create with Python
Alternatively, your child can use Python's turtle module to draw their own animations.(Check out my previous blog, Getting Started with Python Programming for Kids - Build Your First Animation)
Using a few Python commands, your child can draw a star, tree, snowman, or anything else they'd like to animate!
Set your child up with Trinket.io - for a quick start, use this template.
Your child can then use the built in backgrounds and characters in Trinket to decide what story they'd like to tell with their animation.
Finally, use Python's turtle module commands to draw. For a detailed description and some helpful hints on how to draw with Python, check out our tutorial here.

If your child would like to learn more, sign up for one of the other courses I teach, Python for AI. We offer a FREE introductory session.

Free Coding Workshop for Kids: Design Your Own Holiday Cards
Join Create & Learn for a free workshop during which your child will build his or her own Holiday Cards. We will introduce students to Canva, a powerful and very popular graphic design software, to create holiday-themed cards celebrating the winter season, ready to be shared with family and friends. Students will be guided through a fun lesson on how to use Canva's drag and drop tools and how to create eye-catching, unique designs. Sign up here, and join us Sunday December 20th at 11 AM PST.

Explore Google's Santa Tracker Coding Activities
For the holidays, Google put together a whole host of exciting, family-friendly activities for children of all ages. Many are geared towards learning how to code. Code Lab and Code Boogie use a Scratch-like block coding interface and engaging graphics that help students practice their programming skills.
In Code Lab, you'll be presented with multiple levels that will involve moving code blocks onto the screen to first build your characters, then guide an elf through a winter maze. Google starts you off with a great tutorial on how to use the blocks, and provides hints along the way.

Drag the right blocks onto the canvas
Press the red play button to watch your character move.
The levels start off simply and then increase in difficulty as you get used to the blocks.
Code Boogie also uses code blocks, but instead of escaping a maze, you're teaching your elf to dance! Play either in freestyle mode where you create your own moves, or follow the teacher's moves in increasingly challenging levels. If you want to see what goes on "underneath the hood," click See Code to see the written out, Javascript version of your code blocks.


If you celebrate Christmas, you and your child can also visit this site to track Santa around the world on December 24th.
Build a Holiday-themed Text-based Adventure Game with Python
Use Python (or Ruby, or another written programming language) to code up your own text-based adventure game! Maybe you're an elf, stranded away from the North Pole, and you need to return to Santa's workshop before Christmas. Maybe you're playing a game of dreidel with your family and are trying to beat your siblings. Or maybe you're a snowman on a wild mission to find her missing carrot nose.
Encourage your child to come up with their own holiday adventure story and implement it in code. Limited coding knowledge is needed: at a minimum, students will need to know the print() and input() commands, and some basic conditionals.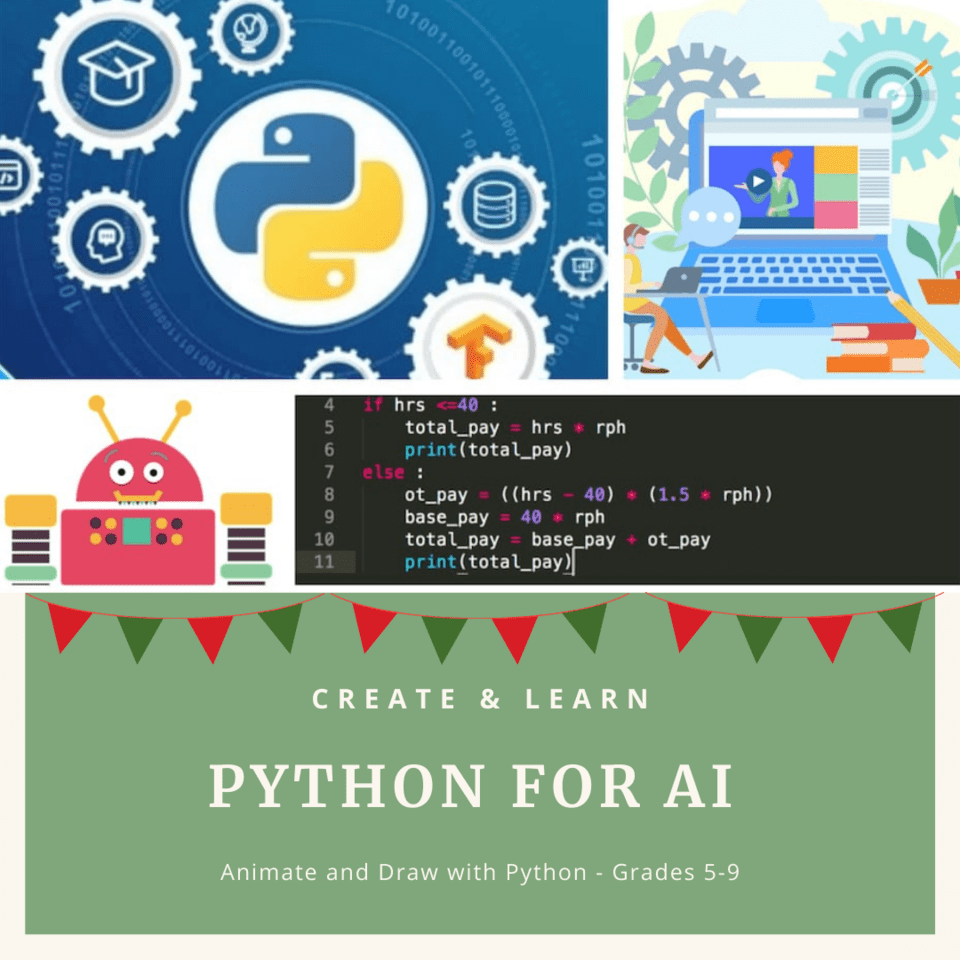 Try it for yourself, or join us in Python 1 to gain the skills necessary to build this type of game.
Build a Holiday Binary Necklace
Teach your child a computer fundamental - binary encoding - in a creative and artistic way! All you will need is some string, beads in two holiday colors such as red and green or blue and white, and a binary code chart.
Have your child first write out their name in binary, using the chart to find each letter.
Afterwards, you and your child will thread the beads onto the string, following the pattern of ones and zeros they've just written out. Use one color to represent the ones, and the other to represent the zeros.
If you want your necklace to be longer, you can repeat the pattern once you're done! Your child now has a new piece of jewelry with some CS flair!
Code Something Cool at the Create & Learn Holiday Coding Fair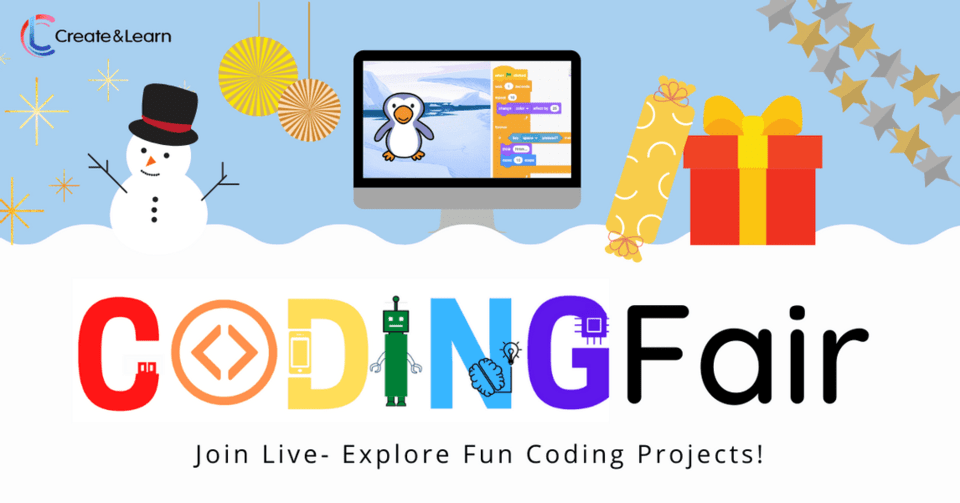 If your child has used code to animate a favorite holiday story, has programmed a New Years Resolution app, tried and loved any of the projects above, or simply wants to share their love of coding with others, our Holiday Coding Fair is for them.
Children will gather to share projects, meet other young coders, and benefit from seeing what other students like them have created. Sign them up for Create & Learn's FREE Coding Fair, Sunday December 27th at 1:00 PM PST for a chance to be inspired, to get new ideas, and see many potential ways to be creative and innovative with code! RSVP here. All ages and experience levels are welcome!

---
Join our free introduction classes in Scratch, Minecraft, Data Science, Python, and more. Or check out all 16 courses we offer, from beginner to mastery, where every child can find topics they love.

Create & Learn is on a mission to power up your child's future with courses in AI, Robotics, Data Science, and more. Designed for children grades 2-9, classes are delivered virtually with live, expert instructors. Lessons are interactive, foster creativity, and make real life connections across industries so your child can explore the latest technologies and have fun! www.createandlearn.us